How we travel
This is the beginning of a site on our travels in 41 countries over 43 years. We're eager to share our experiences of sights, cultures, engaging people, history, and more. There will be about 15 more pages coming over the next months. They'll be by topic. The next one is Cars, presenting our many adventures, challenges, and views on the use of cars. Check out the previews on the topics.
The text here has small images imbedded. You can see higher-res images, commonly at 2560 pixels on the long dimension, just by clicking on the small images. (These images are coming later.)
Text in bold blue font (not underlined, as are current active links) will become active links to topical pages. We appreciate your patience.
Quick story, before some details… well, maybe not that quick
… then we recount how we got the bug for a trip and how we prepared the whole trip
We travel for the flow of experiences, variously deep to exhilarating, of new lands, new cultures, new friends, new art, new pieces of history recent and ancient. We travel for being on our own, making our way in a world that is refreshingly foreign to us, yet filled with the common humanity we always find.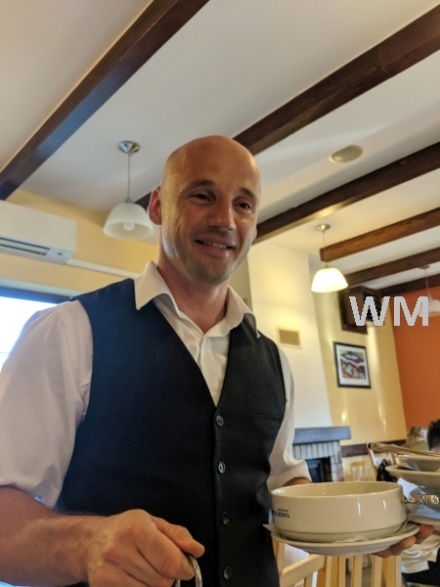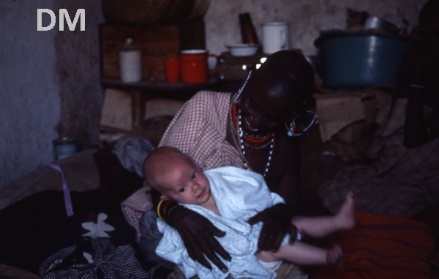 We travel on our own. One group tour made us certain that such is not for us, ever. Planning our own trip, carrying it out in real time takes us to people we want to meet and places we want to see… and it's an endless thrill, kind of edgy more than once (or thirty times). We can stop where there's an unusual flower, and then another and another, or watch that elephant kicking up bunches of grass and deftly eating them, or talking to a waiter about his life. At the same time, we've been led to great trips by meeting people in varied walks of life – visiting students and scientists, friends of friends of friends, and all that. We seek them out and they reward us with ideas and even direct links – "You must meet my grandmother, Mama Sikinan; she's does bush medicine," and so we did to great surprise elaborated elsewhere.
Our focus here is on international travel. We've done lots of domestic travel inside the US, in all states except Alaska (so far), but international travel is less indulged in by Americans than by people of other nations, so we feel it may be useful to impart the flavor of being abroad.
Captions for images above: SR – David triggering some trigger plants in the Stirling Range, Western Australia; EF – Big elephant feeding by kicking up grass clumps, Tsavo West National Park, Kenya; WM – Waiter at Bistro Vučnica in Mukinje, Croatia, near Plitvice Lakes; DM – David as a 3-1/2 -month-old with Mama Sikinan in Magadi, Kenya
We've seen the classic sights, from Notre Dame cathedral to lions in Masai Mara, to the Mt. Hagen highway in Papua New Guinea, to Ta Prohm by Angkor Wat, to the Galapagos, to Machu Picchu with its dramatic Amarra del Sol. to the bell tower in Xi'An, China.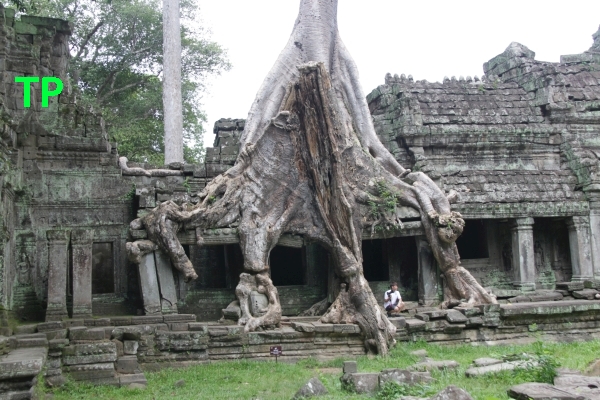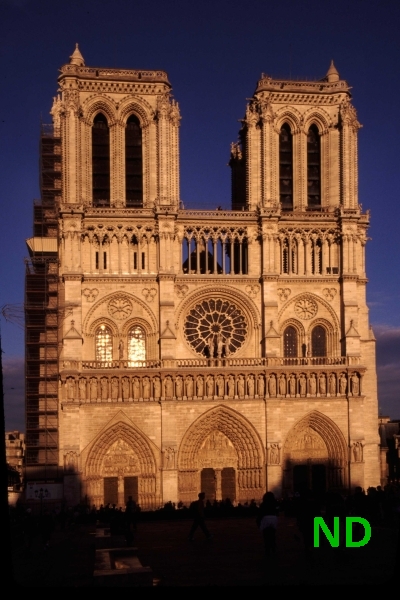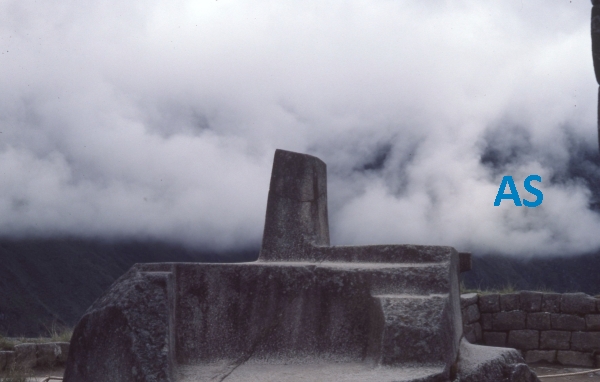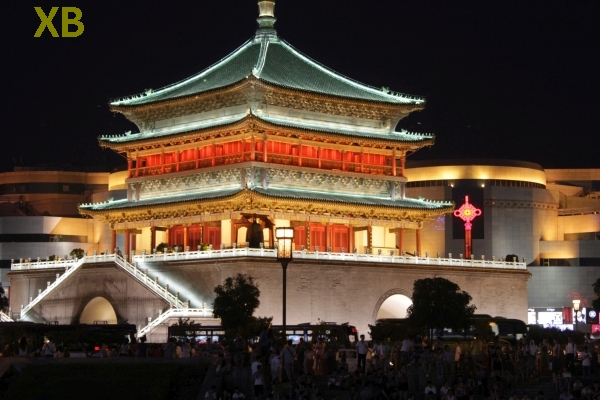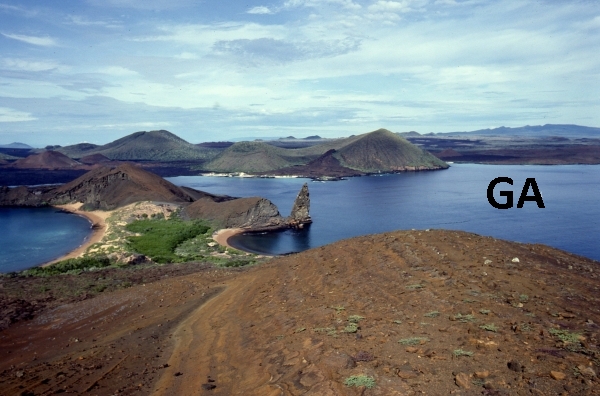 Captions: ND – Notre Dame cathedral in Paris,; TP – Trees overgrowing Ta Prohm in the complex near Angkor Wat, Cambodia; GA – Looking down on Bartolome Pinnacle on Isla Bartolome, the Galapagos; AS – The Amarra del Sol, hitching post of the sun, Machu Picchu, Peru; XB – The Bell Tower in Xi'An, China
We've also been in places so out of the way as to give a thrill of the exotica, from Maun, Botswana to sleeping in a Maasai enkaji to a divination ceremony with a pig's liver up the river in Borneo. We've met the most interesting and most generous people, from a pedicab driver in Kota Bahru, mainland Malaysia to a bullet train driver to break dancers in Montpellier, France to famous researchers in Madagascar to Belgian emigres in the Galapagos. We've conversed in English, French, German, Spanish, and some Bahasa Indonesia, Japanese, and Papuan pidgin. On a flight from Kenya to Zurich Vince sat next to an engaging middle-aged man who, on leaving, gave him his card – Kip Keino, the famous marathoner.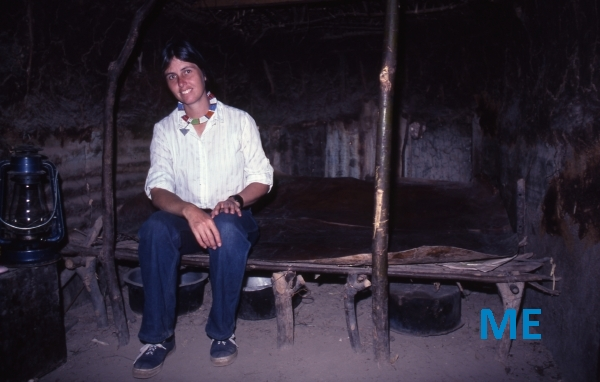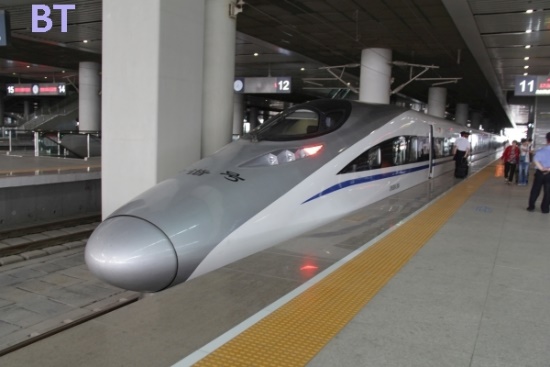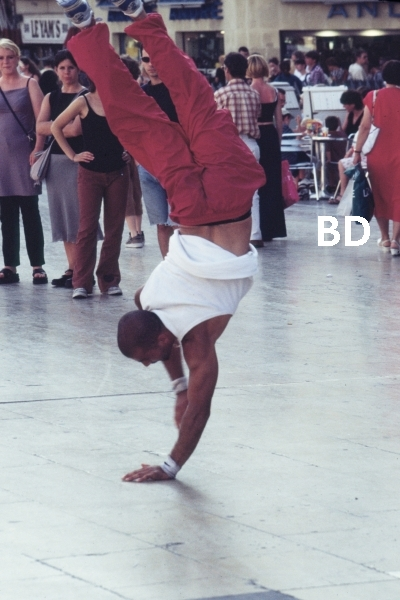 Captions: DV – Divination ceremony at a Dyak longhouse upriver from Sarikei, Sarawak, Malaysia; PC – Pedicab driver with us in Johor Bahru, Malaysia; BD – Break dancers on the Comedie, Montpellier, France; ME – Lou Ellen in a Maasai enkaji, our home for the night, Ngong Hills, Kenya; BT – Bullet train in Zhengzhou, China
Forty different modes of transport has taken us from point A to point B – our two feet (or four or six in our combos), tuk-tuks (Bangkok, below), cable cars, Land Rovers (not to be envied, we found), four-seater planes, mokoros (shallow-draft canoes; Okavango Delta, Botswana, below), parasails (Lake Annecy, France, below), … We've given rides to young people and old in Kenya, Cameroon, Botswana; we've had the favor returned in the Netherlands, France, Australia. We'd do it all again, and are doing it.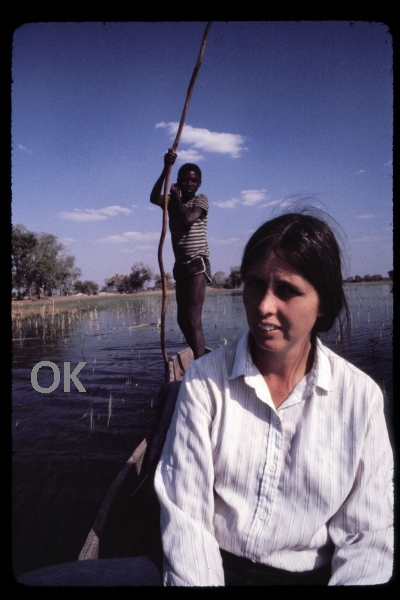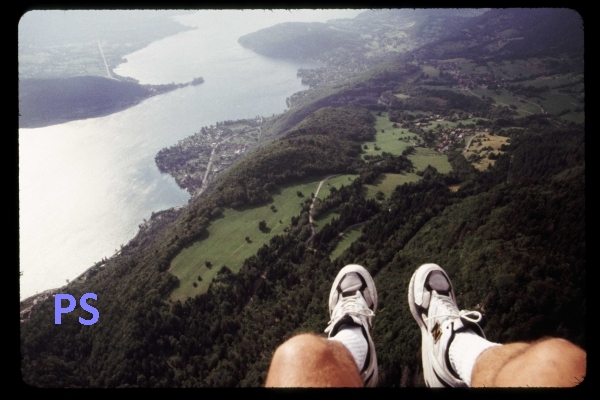 We've discovered stunning-to-daunting places to stay – homestays in Viet Nam (yes, it's two words), warm chambres d'hotes in France, mountain huts, Maasai enkajis, five-room suites in Luoyang for a virtual song – and equally amazing hosts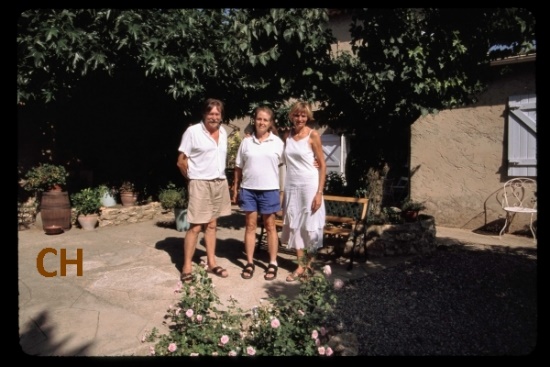 Art surrounded us in Bali, in Marrakech, in Papua New Guinea, in Kenya, in Haida Gwaii, in Australia. We came back with memorable pieces and with memories of many more – the Louvre, the Musee Guimet of Asian art in Paris(MG; David and friend on a bench), the Dahlem Museum in Berlin (DM; the pre-Columbian statue), the aboriginal exhibition in Canberra, Australia, the [Folk Art Museum in Tokyo (FS; artist Fujita-san doing exquisite repoussé),cozy, smaller museums and ateliers in Croatia, Madagascar, Vancouver, and more. Art is everywhere in Japan, in storefronts (JA). There's also living art in performance – we were so moved by the Kecak dance KD) done by torchlight by a women's troupe in Ubud, Bali.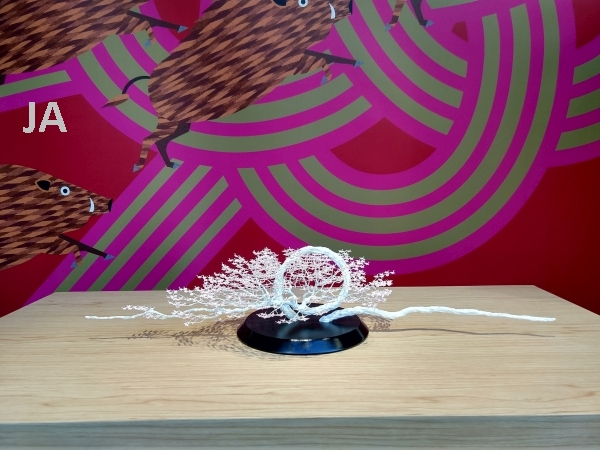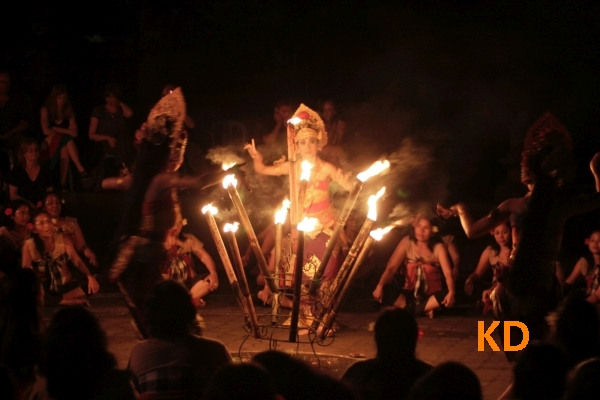 We've been wrapped in serene, golden sunsets in Hawaii, purple sunsets in Madagascar traversed by a classic prahu, puffy, mountain-swaddling clouds in Viet Nam, caught there also in exhilarating cold rain. We've looked over the sensuous hills of Tam Son in Viet Nam, the grasslands of Tsavo West (TW; from the popped top of our rented Land Rover), the snows on Mt. Kenya.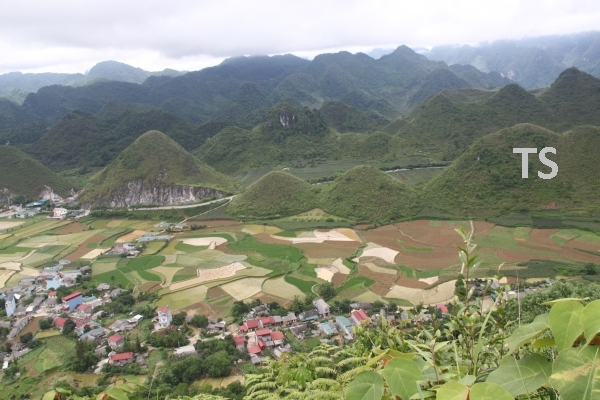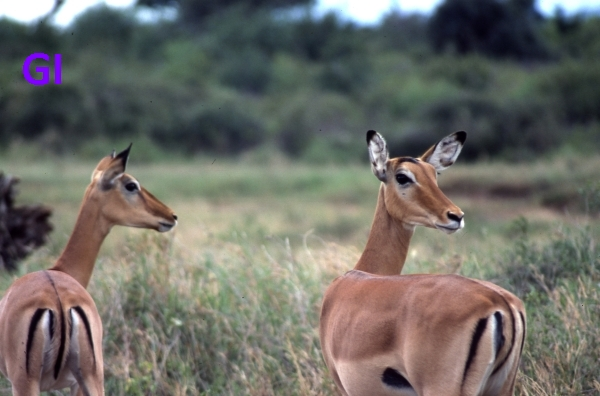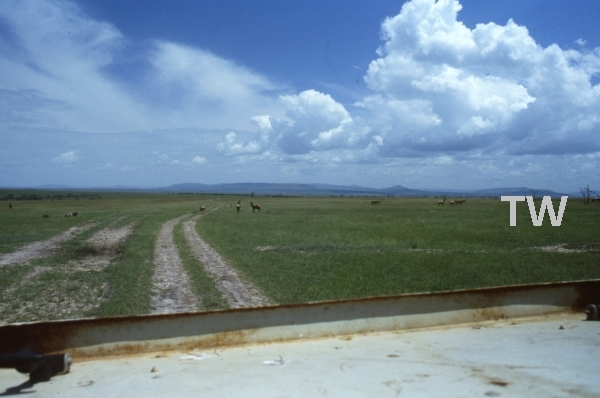 We set out in 1977 to see the wild animals and plants of Kenya and saw much more. Cruising slowly by car, camping, or boating we've seen right by us lions, elephants, crocodiles, Cape buffalo, elegant impalas and waterbucks (WB), gaudy and chatty perching birds, flamingos parading and taking off, a rarely seen long-legged serval cat, giant senecio trees (GS; cabbages!), Nandi flame trees, but also hyraxes (HY; closest living relatives of the elephant!), eagle owls. Elephants have surrounded us, peacefully. Lions have roared near our tent, and elephants left footprints carefully around our tent.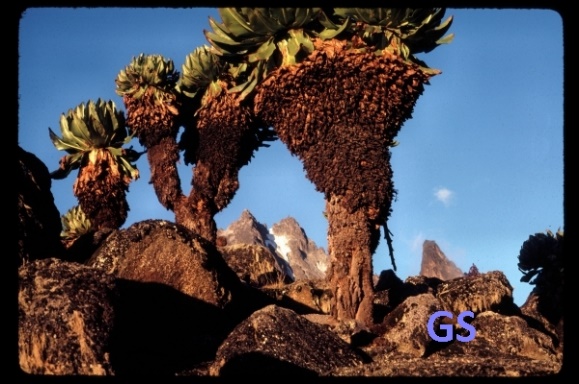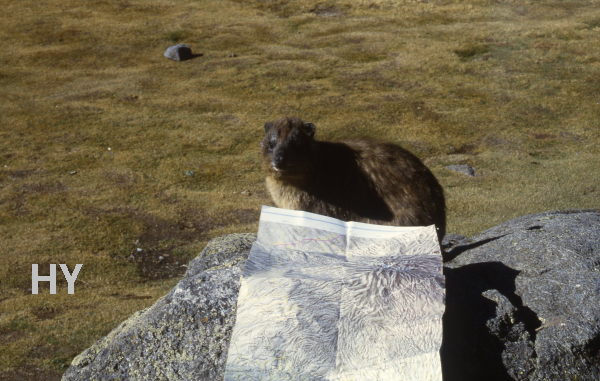 In Madagscar we were entranced by lemurs, chameleons, flame-red aloes, and much more.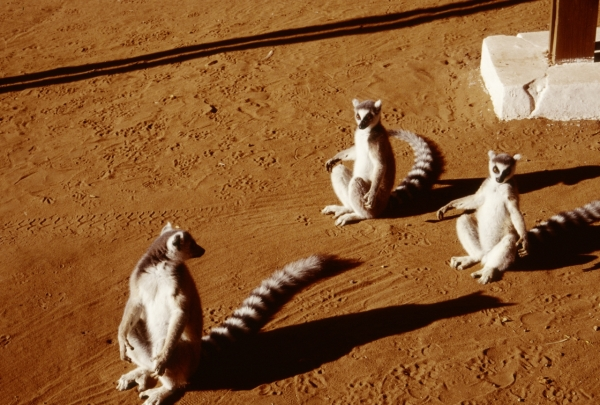 Australia gave us towering kauri trees (Lou Ellen and David are climbing the Gloucester tree), crimson rosella parrots in Canberra braving winter frost and summer heat, fairy penguins, funky grass trees, great groups of cycads, flying duck orchids, curly Banksia flowers, trigger plants, enamel orchids…. which are on the most infertile soils of Western Australia but part of an ecosystem more diverse than Amazonia; there are at least 8,000 species of wildflowers in Western Australia alone!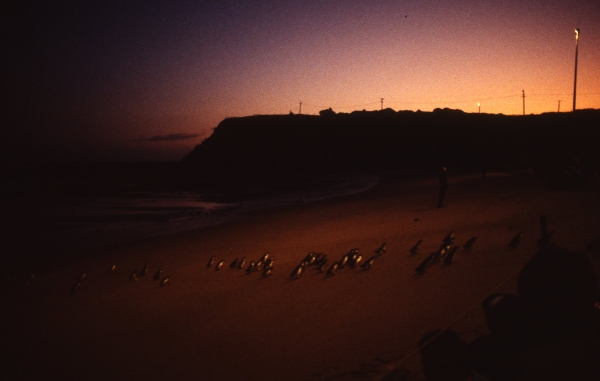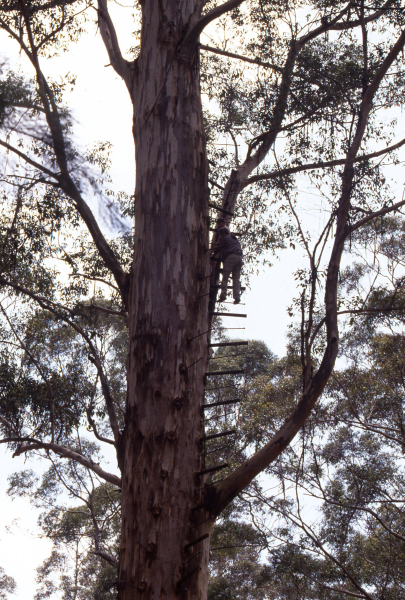 Puerto Rico gave us the bioluminescent dinoflagellates (hard to get a picture!).
Other sights and experiences challenge being categorized – the humor of a wrinkly-faced dog in a café in Fougeres, France; the solid gold Buddha at Wat Traimit in Bangkok, encountering a haughty camel pulling a cotton transport in India.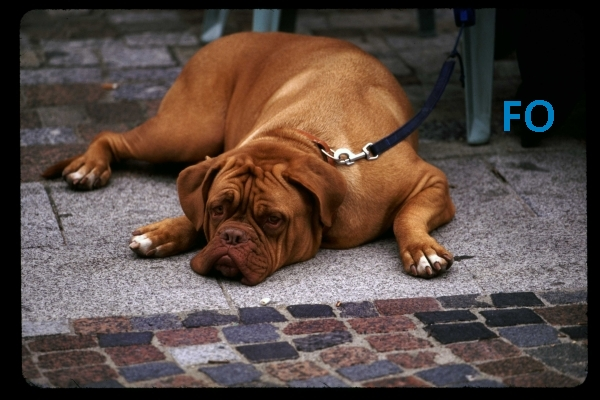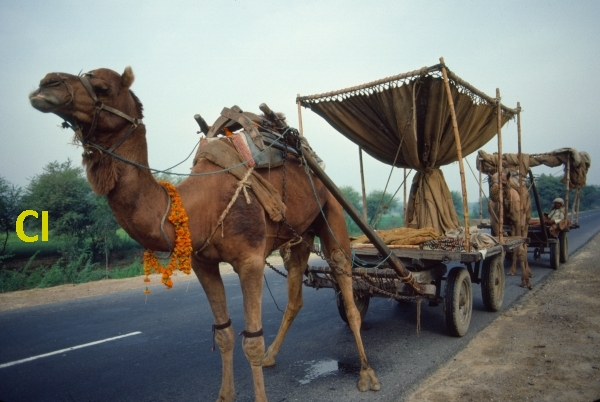 Yes, we're scientists and science has been the occasion for some of our travels – meetings and work stays of weeks to months. It has also been an illuminator of our travels. We see the beautiful complexity of nature, with some deeper knowledge of the layers of wonder from biochemical to ecological. We also have to see, sadly, the diversity of fellow inhabitants before it all disappears – elephants, lions, rainforests, coral reefs. There's a small chance we can add to the awareness of others and catalyze some critically needed actions.
We have the great fortune to have a son who has not only been a joy to live with but an equally ardent traveler. Being breast-fed he was eminently portable, as we took him on a two-part world venture at age 4 months. He was a happy center of attention in child-centric cultures – Malaysia, Kenya, for two. He enjoyed and recalled travel experiences. At age 8 we asked him where he'd like us all to go that summer. His first three choices were "Madagascar, Madagascar, Madagascar," and so we heartily agreed. He grew into a gracious leader and organizer – he and his wife, Yi, knew how to get around on every transport in Japan, what times everything was happening.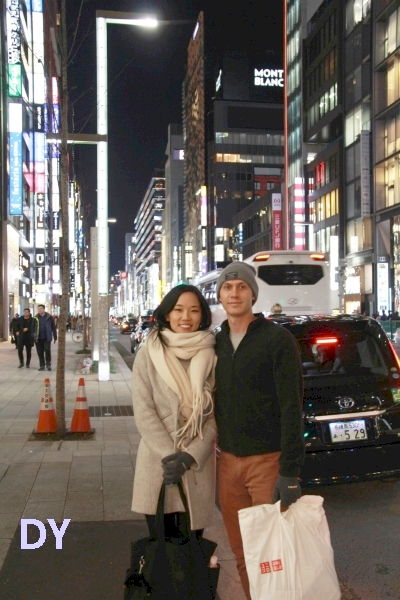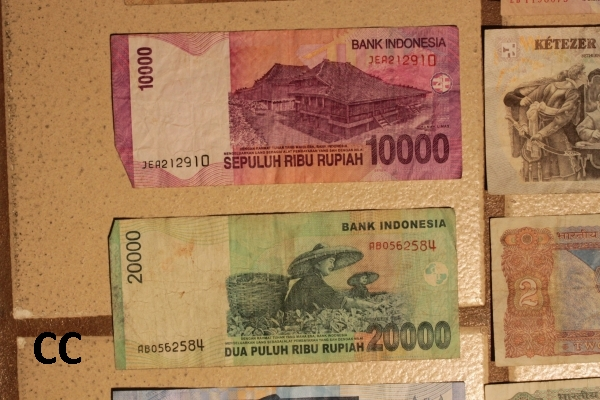 We've been millionaires in Jordan and Indonesia, watching the exchange rate and admiring the beauty of coins and colorful banknotes around the world, also silently applauding the nations' choices of poets, farmers, intellectuals, workers over the unbroken run of politicians on US banknotes.
We've had glorious lunches with bread, brie, and wine, a number in spectacular settings ST JEAN DE BUEGES. We've had basic meals of foo-foo cooked on a dirt floor, sumptuous meals with seafood and champagne hosted by friends, truly unusual bushmeat, our own mountain camping food, meals to die for in little restaurants. We're been given a football-sized avocado by woman farmer Lydia Namanga in Cameroon. We discovered Arabic breakfasts and Vince now has one every other day. Friends, and families of friends, treated us to dinners, some with great ceremony, as in Xi'An, China.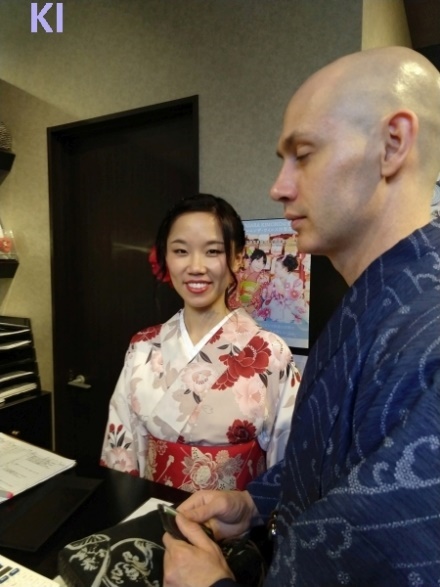 We've been in the local economy and in the local personal and cultural life. We've bargained with a man in arse grass in Mt. Hagen, been part of a young couple's Hindu ceremony in Bali and a divination ceremony (DV) for a young Dyak man in Borneo, been taken into the black residential area in Bulawayo on a different planet from the white world there. David and Yi (KI) joined the throngs of young people at the Senso-ji temple celebrating their coming of age in beautiful kimonos. The weekly markets in the remote areas are a "trip" – selling water buffalo in Rantepao (RM), Sulawesi or almost anything at Bac Ha (BH) in Viet Nam or the souks of Marrakech every day.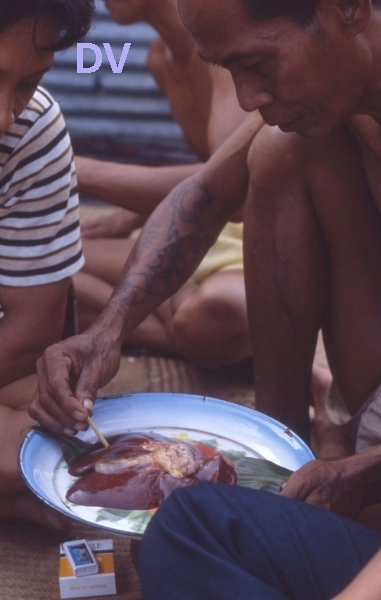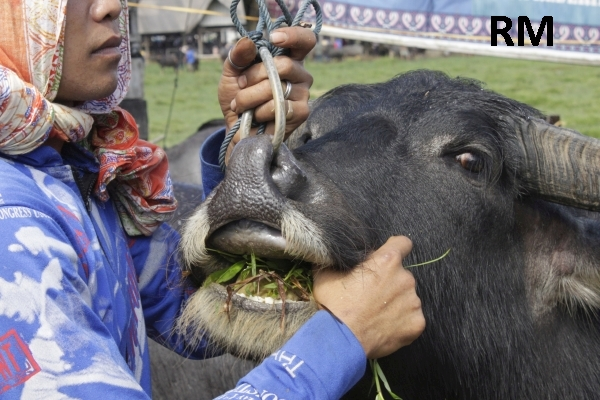 We've been accepted graciously and exuberantly in places where American political and military actions have been appalling. The people of Viet Nam were warm from the start and rapidly became friends (HA). One Viet veteran (VS) invited us into his house just to talk with Americans. In Jordan, where 88% of the people disagreed with American policy toward Palestinians, people would ask us, "Where are you from?" We'd answer – as if it were not obvious, "America." They would reply, "Welcome to Jordan." We reciprocated with warm interactions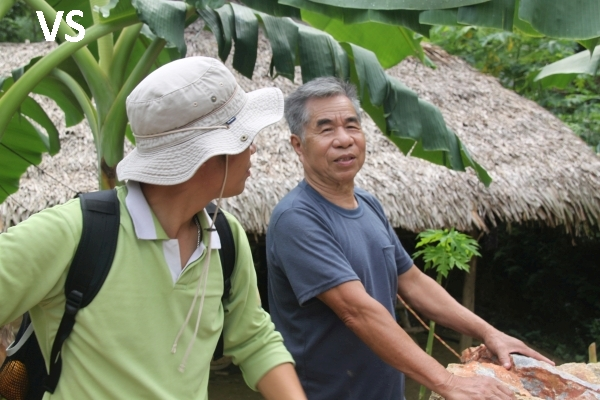 there, and in China and many Muslim countries.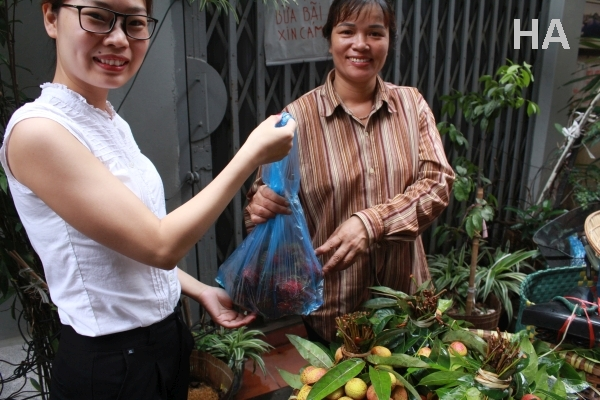 We've seen what local people live through. People are tough and resourceful. They put up with drudgery (VF), sadness, poverty (dying cattle in Kenya near Mt. Meru, HC), all the human conditions that are real to us if not to economists (a generally dirty word to us). We've also seen people radiant with joy (KI). Our travels have value beyond gratifying our desires for experiences. We are able to spread goodwill person-to-person. We are also lifelong teachers from days in graduate school through the present. We teach the wonders, the cultures, the issues.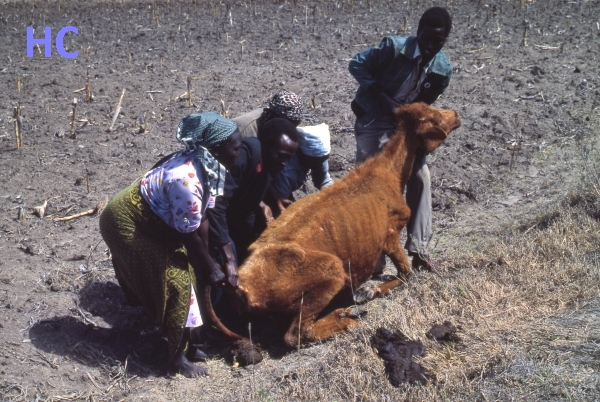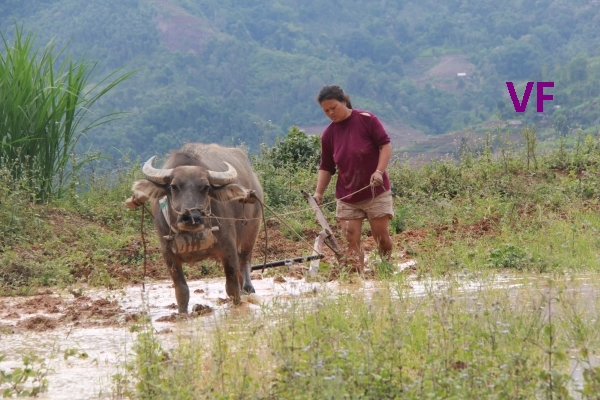 We're not Raiders of the Lost Ark. We don't seek danger for thrills. Dangers were so few – driving unwittingly into a game poachers' camp in Zimbabwe, having our plane nearly catch a wing landing in Chiang Rai, Vince unknowingly berating the US ambassador and his Peruvian general host for bringing a disruptive helicopter to ghostly Machu Picchu, being driven at high speed on a slippery road by a young and hungover Dyak man in Borneo. We've never been mugged, though Lou Ellen had her pocket slit by a clever young pickpocket in Antananarivo, Madagascar (ZM; that's our David to the left, not the pickpocket!). Diseases faced us – malaria, schistosomiasis, Naeglaria,… but Vince was only sick three times, once with common 24-hour flu, once with brief GI upset from too much yoghurt with new fermenters, and once from an antimalarial medication (cured with yoghurt!).
We've lived beyond the actual trips in books we read, and we've relived the experiences with our friends in stories, images, and art.
Here are some pieces, below. These are distilled from the longer stories we're putting up as some twenty stories or articles.
We have a wealth of images, digital and scanned (many more still to go!). You will be able, once we have the content all up, to take virtual trips through them from the main menu on this home page, by country, and linked by topic from the individual articles.
Next part: just how do we create a trip? Getting the travel bug for a place.